Plants of Seasonal Interest
From our database of over 2,000 plants, or search by...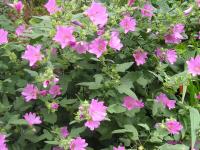 Lavatera shrubs are often short-lived, but grow extremely quickly. A hard annual prune can extend their lives and optimise their fantastic floral displays.

What does Conifer mean ?

Why not check out our glossary section to find what this term means and many others like it.
Love gardening and plants? Why not visit:
On: 01 Jan 1970
Sun Rise: 07:50 - Sun Set: 16:35
---